As the largest health care provider in the North East of England, employing over four thousand nurses, midwives and health visitors, we provide an unparalleled range of opportunities. Working at Newcastle Hospitals Trust is both rewarding and challenging and the contribution of nurses and midwives is widely recognised and highly valued to ensure that the highest quality of care is provided.
If you want a career that's interesting, rewarding and challenging, nursing will give you plenty of scope to do exactly that.
People from all walks of life and with all types of health problems depend on the professional skills and care of nurses. A combination of people skills and initiative is essential for the hands-on care that all nurses are required to provide.
We provide healthcare for the whole of Newcastle in both acute and community settings, with a national and international reputation for nursing. We are one of the most successful teaching NHS Trusts in the country offering the second highest number of specialist services than any other group of hospitals in the UK. Our hospitals have over 1,800 beds and we manage over 1.72 million patient 'contacts' every year and we are one of the top performing Trusts in the country.
The Acute Hospitals have the latest state of the art equipment enabling us to be at the forefront of developments in nursing and healthcare, all housed in a modern environment. We have clinical skills centres on both acute sites with simulation suites to assist in teaching clinical staff.
The Royal Victoria Infirmary (RVI) is right in the heart of the City which includes the Great North Children's Hospital, Trauma Centre, Assessment Suite and 44 in-patient Wards and Departments. The site has 3 critical care units and 33 operating theatres.
The Freeman Hospital, including the Institute for Transplantation and Northern Centre for Cancer Care, is a nationally and international renowned centre of excellence a few miles out of the city centre. The site has 29 in-patient areas, 2 theatre suites with 24 operating theatres and cath lab.
In the Community, we also provide a wide range of specialised and non-specialised adult and paediatric community services. These services all support people within the Newcastle upon Tyne community and beyond, either in their own home or through community based clinics and outreach centres.
Find out more about all our services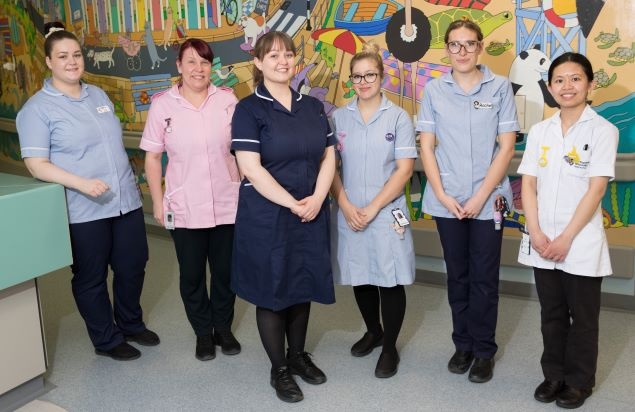 We currently employ around 4500 Registered Nurses and we pride ourselves on growing our own talent.
Internal medicine and older peoples medicine
We provide expert care across RVI, FRH and Centre for Aging and Vitality as well as the community. We have a range of diverse specialist services such as Older Peoples Medicine, Immunology and Allergy, Infectious Diseases and Tropical Medicine, Clinical Pharmacology and Toxicology, Hepatology and Endocrinology.
Cardiothoracic services
We provide care for both adults and children requiring a wide range of cardiothoracic surgery and cardiology procedures. We have a national and international reputation for excellence and are one of the leading cardiopulmonary transplant centres for adults and one of only two centres providing paediatric heart and lung transplantation.
Childrens services
The Great North Children's Hospital is the only children's hospital in the north east and provides a full range of medical, surgical and cancer services over inpatient wards, day units, PICU and renal dialysis unit, paediatric emergency department and assessment suite. Additionally, we have a large community nursing team caring for acutely sick children and those with complex needs.
Community
Our community services support people within either in their own home or through community based clinics and outreach centres. We cover many areas such as community nursing, health visiting, public health, school nursing, rehabilitation, walk in centres, health improvement teams and phlebotomy as well as funded nursing care and readmission projects.
Critical Care
Our units support the care of patients throughout the Trust providing care for a wide range of elective/non-elective procedures including neurosurgery, orthopaedics, general surgery, burns and plastics, renal and respiratory failure, cardio to name but a few. We also provide acute and chronic pain teams, Pre Assessment and home ventilation services.
Peri operative services
We have 50 operating theatres across the Trust and with our international reputation for pioneering and expertise in Transplant Surgery, we have 4 dedicated operating theatres in the Institute of Transplantation (IOT). Our theatre suites cover General surgery, Gynaecology, Plastics, Burns and reconstructive, Liver Retrieval & Transplantation, just to name a few. We also provide a Da Vinci Robotic Surgery Service.
Interventional Radiology
We undertakes complex interventional cases on patients who are inpatients. Examples are Endovascular Aneurysm Repair (EVAR), carotid stenting, vascular embolization, selective tumour ablation, and vascular access including AV fistula salvage. Other specialities include Gastroenterology, Gynaecology, Paediatrics, Cancer Services, Pain Management.
Musculoskeletal
This directorate comprises of many specialised services including Orthopaedic Trauma, the Major Trauma Unit with a national neck of femur unit, which is in the process of expanding to include some Trauma rehabilitation facilities which is a gold standard for Trauma centres. We have a regional Arthroplasty service, and are one of 5 National Centres for Rheumatology Services.
Neurosciences
We are one of the top regional units in the UK providing a comprehensive range of specialist tests, treatments and procedures for all types of neurological conditions involving the brain and nervous system. There are long standing strong collaborations between Neurosciences within the Trust and Newcastle University enabling research in a variety of areas.
Northern Centre for Cancer Care
We are one of the UK's leading Cancer Centres, providing local and tertiary services/care to a population of approximately 3 million. This encompasses a broad range of services including: radiotherapy and systemic anticancer medicine services and is host to the Cancer Networks dedicated Teenage and Young Adult Unit, bone marrow transplant unit and haemophilia treatment centre.
Plastics, Ophthalmology, Dermatology and ENT
A large and busy directorate which has an abundance of opportunities. Spanning from our large regional plastics centre providing surgical and non-surgical plastic and reconstructive treatments to one of the largest dermatology centres in the country. Our ENT services cover the North of England and the Newcastle Eye Centre is a large regional service providing both surgical and non-surgical treatments for ophthalmic conditions in both adults and children.
Renal, Urology and Institute of Transplantation
Within Renal Services and the IoT there are some excellent opportunities for qualified nursing staff. Nurses have the opportunity to gain and develop knowledge and skills into the more complex areas of care such as renal replacement therapies and transplantation. Our Urology Department is the largest in the United Kingdom and offers a wide range of specialised urological procedures including robotic surgery, major cancer surgery, kidney stone surgery and a wide range of endoscopic surgery.
Main Outpatients
We are a large and busy Outpatients Department providing services on both RVI and Freeman site and from 2 Outreach Sites. The teams are multidisciplinary with Nursing, Assistant Practitioners, Healthcare Assistants and Phlebotomist working together to support patients and their treating specialist throughout their Outpatient visit. 
Surgical Services
This directorate comprises of the following specialities breast surgery, upper gastrointestinal surgery, hepato-pancreatico-biliary and transplantation service , Endoscopy service, Endocrine and Thyroid service, Vascular Surgery based at the Northern Vascular Centre based at Freeman Hospital, Disability Service Centre.
Womens Services
We provide a full range of services to women including Gynaecology, Reproductive Medicine and Ante Natal, Intra-partum and Postnatal care for low and high risk women. We provide both elective and emergency services and offer a full screening and ultrasound service. We are also the regional referral service for Foetal Medicine.
Clinical Research
Clinical Research within NuTH supports the delivery of cutting edge research in a variety of patient disease areas. We work as part of Newcastle Academic Health Partners to harness clinical and academic expertise to ensure patients benefit sooner from new treatments, diagnostics and prevention strategies. This partnership brings us together Northumberland, Tyne and Wear NHS Foundation Trust and Newcastle University.
Frequently Asked Questions
Meet our Nurses
Meet Caroline
Caroline is a Sister on Ward 9 at the Freeman Hospital which specialises in Older People's Medicine.
Find out more
Meet Sarah
Sarah Louise Richardson is a Staff Nurse on the Cardiothoracic Intensive Care Unit.
Find out more
International Recruitment
We have been recruiting internationally for many years in both the Philippines and Ireland. Find out about why our Philippines staff love working for Newcastle Hospitals.
Sound right for you?
Yes... now it's time to find you a job. We advertise and interview on a monthly basis with the exception of December. You can find out all about how we recruit nurses in our FAQ section above.
If you apply for a post and are invited to interview, on the day you will be given a list of all wards and departments that are recruiting that day. You will be asked to select up to three areas of interest. If successful at interview, we will always try and offer you your first choice of post. However, if that's not possible, we would then look at your second and then third choice. If successful, we will always offer you a specific post, you won't go into a "pool" to await a suitable post with the exception of some posts in Paediatrics.
We welcome any queries regarding specific posts you can contact us at NursingRecruitmentQueries@nuth.nhs.uk
For other posts, Band 6 and upwards and some specialised nursing posts, you can view them here. Each vacancy has a named contact, if you have queries about that specific post.
see all nursing vacancies