The NHS Newcastle upon Tyne Hospitals Estates team looks after the one of the top 5 largest trusts in the UK, taking 50,000 reactive calls per year and handling over 6,500 maintenance tasks per team per month in order to maintain the 132,000 owned and maintained assets within the Estates directorate that facilitate the 1.84 million patient interactions every year.
The Newcastle Hospitals Estates team looks after the largest Trust in the North east, with an aggregated estate as large as 57 football pitches. Annually responding to over 50,000 reactive tasks across the organisation and responsible for maintaining 132,000 assets.
Estates is split in to eight main discipline areas, each with their own set of annual core objectives which interlink to both internal and external professions. Many of our colleagues have join us with experience and skills obtained outside of the organisation in similar roles or through higher education, bringing with them a wealth of transferrable skills and experience.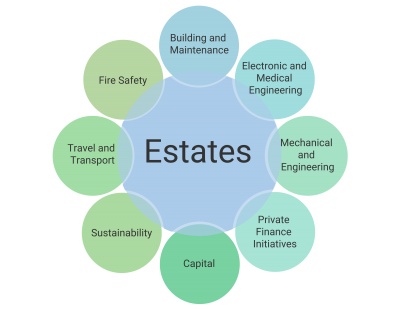 We also recognise the value in developing our in house team and invest annually in their progression and continuous professional development building on and improving on existing career paths, which have starting in some cases with an apprenticeship and progressed to senior roles right up to Director.
The directorate relies on knowledge of the estates and the assets within, which are niche and complex in line with the services delivered on site. Therefore the role is never dull and each day filled with new challenges. The team is multi skilled and diverse so along with the development opportunities the support from colleagues and mentors is invaluable and we have a excellent team morale and spirit of comradery amongst peers.
Our commitment to Net Zero
Newcastle Hospitals was the first healthcare organisation in the world to declare a climate emergency in June 2019, committing to become Net Zero Carbon for direct carbon emissions by 2030.
Over 90% of that carbon footprint is from activities related to the energy we use to heat and power our buildings. Therefore the Estates Directorate is one of the most important stakeholders in achieving that goal and decisions made in virtually every role within the department will impact on our ability to decarbonise at the rapid rate required to stay within our carbon budget.
The journey towards Net Zero offers opportunities that are both challenging and rewarding in all disciplines from engineering and building, through to capital projects, and travel & transport.
For example, our Medical Gas Engineers were part of an exciting project which led to the first baby born in the UK where the mother used innovative technology to capture and destroy exhaled nitrous oxide – an extremely potent greenhouse gas.
The Estates Directorate is at the heart of the challenge, home to the Trust's Sustainability Department leading on delivery of the Climate Emergency Strategy, and is the place to learn and apply the skills and knowledge that will be necessary to manage the Net Zero Carbon estates of the future.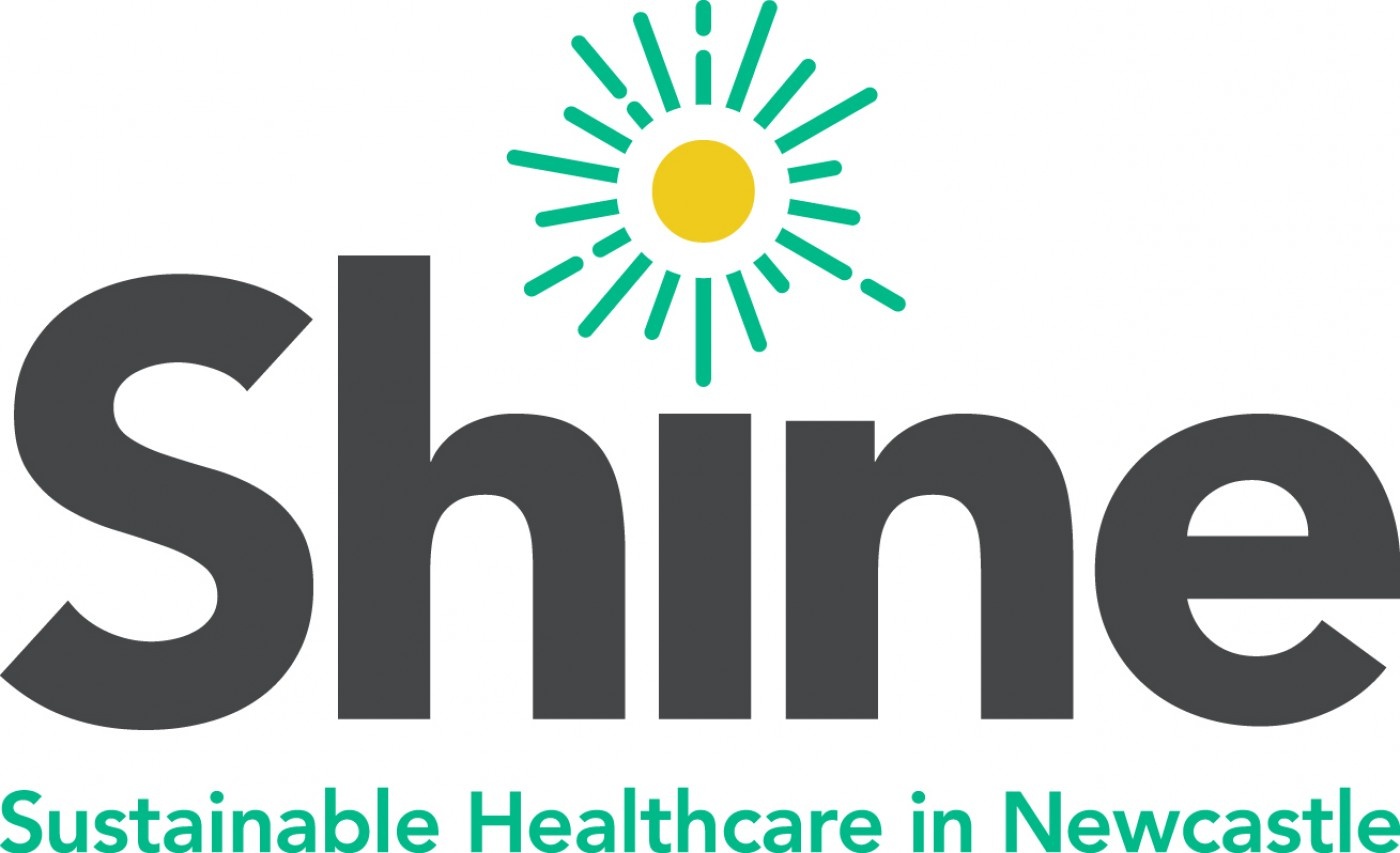 Your career in Estates at Newcastle Hospitals
If you're interested in joining our excellent Estates team at Newcastle Hospitals, then click on the link below to see our current vacancies.
Current Vacancies
Don't just take our word for it, listen to what our staff members have to say!
Cris - Senior Medical Electronics Technician
I'm Cris Gatilogo, a Senior Medical Engineering Technician, based primarily at the Freeman hospital. My team is responsible for managing the commission of medical devices in the Newcastle Upon Tyne Trust, managing medical devices with a multi-million value.
My daily tasks revolve around asset management as well as supporting and managing the clinical staff. Which involves acceptance testing, firm acceptance testing, breakdowns, repairs, and a lot of preventative maintenance on medical devices. We work closely with multidisciplinary teams like Medical Physics Critical Care teams, and Admin who communicate with third-party suppliers.
I joined the NHS back in 2003 as a part of the Milton Keynes Hospital trust, I stayed here for four years working as a general porter alongside nurses. After, I then joined the South-Central ambulance service for another six years working between Milton Keynes and London area. Then following a three-year gap, where I took a personal break from work to be a full-time dad. In the September of 2018 I re-joined the NHS as a Junior Technician here at the Freeman, by the sixth month I was working as a technician and after three years I was promoted to Senior Medical Engineering Technician. I have a background in Electrical Engineering, so the transferable skills and the similarity of the roles made me a perfect fit for this job here at NHS Estates.
The culture at the Freeman is very welcoming and accommodating, especially since moving from the Philippines I've found the workplace culture to be very accepting and diverse in its cultures. With having children what I've found great about working for the NHS is the amount of paid holiday compared to other companies, it has really benefited my work-life balance. Since the pandemic there has been a huge push towards flexibility at work which has given us the benefit of flexitime when needed.
My favourite thing about working here is the people, I love talking to everyone and being able to engage in the minority staff network as well as the staff network translating outside of work. I love networking with the different departments, the clinical staff, admin and the wider company, I really enjoy meeting and getting to know people across the board.
For someone considering a job within NHS Estates, I would recommend visiting the site and speaking with the team to gauge if the environment is for them. From my experience when I first came to the site for an interview, I found everyone to be friendly and accommodating.
Laura - Sustainability Manager
I'm Laura Middlemass, my role at NHS Estates is as the Assistant Sustainability Manager.
I've worked as part of the Sustainability team for 6 years, as we work towards NHS net zero carbon goals, as well as site-specific goals such as zero waste and clean air. I spend a lot of time communicating with the wider NHS workforce on issues of sustainability, discussing what impact their role can have on issues of sustainability. Key to my role is introducing new ways of working throughout departments that are more environmentally conscious.
After taking a four-year break after having my second child, I joined NHS Estates in what was known at the time as the Environmental Management team, now the Sustainability team. I started out in admin, then progressed into Sustainability Officer, then into Assistant Sustainability Manager where I am today. What attracted me to working within NHS Estates was the company's reputation, being such a large organisation, the job security was very attractive to me. At the time, NHS Estates was one of the very few organisations looking at sustainability issues. Before working at NHS Estates, I worked for the Energy Saving Trust who analyse domestic energy efficiency. At the time, we worked with local authorities educating them on how to improve local housing stock to meet energy consumption standards, intending to tackle fuel poverty.
From working at NHS Estates for 6 years I've found there is a real sense of teamwork and a culture of supporting one another. In Newcastle Hospitals specifically, I've found there is this strong culture of striving for excellence and wanting to provide the utmost care. What I've found since working here, is the care of our patients is always at the core, even in Estates where we don't personally deal with patients. Throughout the organisation, everyone upholds the same values, and universally we all want to uphold the image of being an outstanding institution. Within the Sustainability team itself, there's a real strong team ethic and a sense that everyone has each other's back and supports one another.
My favourite thing about the job is the team I'm part of, we have such a good team dynamic, we all care and support each other. Generally, I just feel proud to be helping achieve a more sustainable future and working towards something as large as decarbonising the NHS. There's a real drive nationally into growing the sustainability sector, with net zero carbon goals and with many companies having their own sustainability team. It is very rewarding working for a company like the NHS as a company that is founded on helping people, I value being able to be a part of that.
If you're considering a job with NHS Estates, I would highly encourage you to go for it. It requires a lot of hard work and determination, but the rewards are high, and you'll be supported your whole way through training. The opportunities for progression once you start are endless, there's been many who have started as apprentices and through degrees ad master's education have worked their way to heads of departments. So, if you're ambitious and are looking for a company that'll support your career progression, NHS Estates is the one for you.
Richard - Project Manager for Operations and Maintenance
I'm Richard Wisson, a Senior Building Manager at NHS Estates. Whilst I have many responsibilities within my role, I am currently focused on fire remediation work across the RVI and Freeman Hospitals.
Before joining the NHS, I worked as a Joiner, and have been self-employed as well as working in construction for business sites, exhibition companies and shop fitting companies. In 2017 I was starting to notice a downturn in construction work and was relocating to the Northeast to start a family. That's when I applied for my first role within NHS Estates, as I was attracted initially by the job security it provided and I joined the NHS as a Joiner within the RVI Maintenance Team.
In total, I've worked within NHS Estates for nearly five years. After a year I was promoted to Assistant Building Officer for two years, and then promoted to Building Officer. After another year and a half, further internal promotion took me to my present role as Senior Building Manager.
My current role is mainly office-based so I spend some of my day answering calls and emails and it can be very busy, but I find it can make the day pass more quickly. However, I really like that I don't sit around all day and enjoy the buzz of being on my feet and moving around the two hospital sites talking to a wide variety of people to plan and monitor work. I really enjoy the variety and fast-paced work environment, especially compared with other places I've worked.
Everyone is always so friendly and nice, and all the staff are a pleasure to work alongside, sharing the same ethos of wanting to support patient care by doing the best job possible. Even with the legacy of the pandemic, when I come into the office everyone always has a smile on their face, and that really makes my day. It makes it a joyous place to work, knowing even when I'm having a bad day personally, I'm greeted by smiles and warmth from my colleagues.
There has also been a focus on work-life balance within NHS Estates, which has allowed me to work from home occasionally, and the Trust are constantly working towards improving wellbeing and hybrid, flexible working strategies. Another work benefit is the opportunity to lease a car … and the type of car that I wouldn't otherwise be able to afford!
My experience of working in the NHS has exceeded my expectations; providing encouragement, training, and opportunities to upskill and develop professionally. The possibilities for progression are amazing and, from starting out as a Joiner, I am now in a role I never imagined in my wildest of dreams. I would definitely recommend working for the NHS.
Chris - Mechanical Craftsperson
My name is Chris Barnett and I work as a Mechanical Craftsperson, looking after infrastructure like the heating, ventilation, steam services and water distribution.
My job involves working on the steam main and working on ventilation supplies, in wards, theatres, and PBM therapy. I've worked here for four years, and have just completed my four-year apprenticeship, having left school at 16 to work within the NHS Estates.
For the first six months I worked in the pharmacy working with on autoclaves and all the units in there. Then six months after that I worked in the dental department, working on dental chairs and ventilation. I spent the latter three years working with the mechanical craftspeople here at the RVI. Alongside the practical work, I did my BTEC Level three college in the first two years and completed my HNC at college and last two years.
I've always had a mechanical mindset, so I knew I definitely wanted a hands-on job, like mechanical so I wanted to do something along those lines. I know I didn't want to go into the manufacturing industry. So, I wanted to do building services and then the apprenticeship came up, so I wanted to go for it.
I would describe the culture at this site as good, everyone's friendly – everyone just likes to help each other really. We have good communication with people who work on wards, work in theatres and ward sisters because you've got to talk to them before you complete maintenance work. It's a good place to work.
The main benefit with my job is that it's a secure job. Everyone's always told me I could stay for life and work my way up if I wanted to. It motivates me because it's exactly what I wanted in a job.
My favourite part of the job is definitely the people who I work. The jobs that I do I'm really interested I, and there's nothing that's too repetitive.
I think that doing an apprenticeship with NHS Estates is the best way to go if you want to work with your hands - the training is above and beyond anywhere else. Four years' worth of college seems like a lot, but it goes really quick. By the end of it, it's not as hard as you think it would be and you complete loads of training courses along the way. I think I went on over 30 training courses which were all credited and I've got all the certificates for them. I couldn't have asked for more from my apprenticeship.
KPIs
Delivering services from 53 sites
First UK baby born using climate friendly gas and air
Increased LED lighting trust-wide
Capital plan for 22/23 is £23,000,000
The RVI has an electrical demand of 6MW, equivalent to 1,700 houses
Providing 862 cycle spaces across multiple sites
Last year the Estates Helpdesk took 50,000 reactive calls
One of the Top 5 largest Trusts in England Largest in the North East
Total of 4659 parking spaces across multiple sites
The Trust Estate has an internal area of over 405,000m2
The Freeman and RVI have 789m3 of onsite fresh water storage
Parking concessions to patients and visitors circa 18,000 per month
Your Career
Professional development and registration
Benefits and discount portal
Employee health and wellbeing events
Industry leading holiday package
Car lease and cycle schemes