"Volunteers provide an added dimension to the support and care of mothers and babies. The contribution that volunteers make within the clinical environment enhances the overall delivery of care" As spoken by Matron, Special care Baby Unit, RVI.
The Newcastle Hospitals Trust values the involvement of local people as volunteers in activities that enhance the patient, visitor and carer experience, and also support staff in delivering high quality health care.
Your offer of voluntary help is very much appreciated, and you will receive a warm welcome no matter which area of volunteering you choose.
Without our volunteers, we wouldn't be able to deliver the 'outstanding' care and service that we do today.
#IWILL YOUTH CAMPAIGN
Newcastle upon Tyne Hospitals Foundation Trust has made a pledge to the #Iwill campaign, that it will give young people living within our communities the opportunity to take part in volunteering within our hospitals. We do this by working with local schools and colleges to increase accessibility, particularly for underprivileged young people, and to place students in volunteer roles which will enable them to grow in confidence and ambition. For more information visit #Iwill Campaign
Frequently asked questions
PETS AS THERAPY VOLUNTEERS
Time commitment : Monday to Friday, 10:00am - 12 noon or 2:00pm - 4:00pm (minimum requirement = 1 hr session per week)
We are looking to appoint enthusiastic registered Pets As Therapy Volunteers and their dogs to visit patients located on wards across the RVI and Freeman Hospital's.
Under the guidance and support of an Occupational Therapist, Pets As Therapy Volunteers are required to visit patients to provide a therapeutic visiting service, which can promote physical and mental wellbeing and improve the rate of recovery.
All Pets As Therapy Volunteer applicants will be required to complete Trust pre-engagement checks, attend the Trust's one day Induction and Mandatory Training session and adhere to the Pets As Therapy protocol for Volunteering in Hospitals.
For information on becoming a Pets As Therapy Volunteer, visit Pets As Therapy website.
To find out more or apply, please click on the button below.
CONTACT US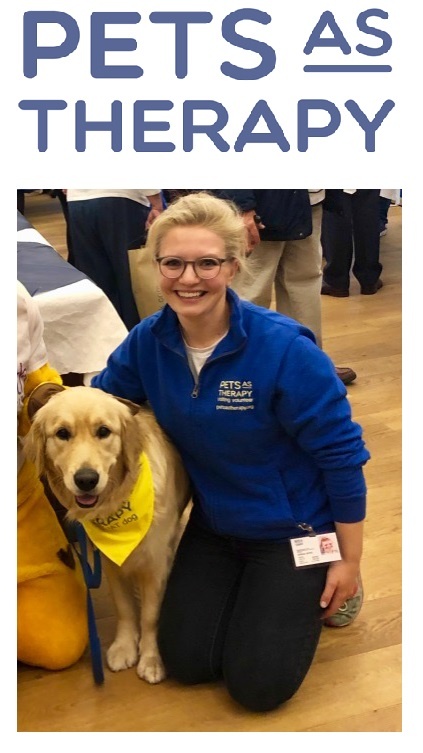 MediCinema Volunteer
Sessions available: Saturdays 1.30pm – 4.30pm (children's movies) or 6.30pm – 9.30pm. Minimum of 2 screenings a month for a minimum of a year. Volunteers need to be aged 18+.
If you are looking for a role that brings immediate benefit and pleasure to patients, one that enables you to see the real difference you're making to their lives, then volunteering at MediCinema located at the RVI Hospital could be for you.
MediCinema improves the difficult reality of being in hospital or places of care for patients and their families by bringing them genuine movie-going experiences to make them feel better. By creating a true cinema experience MediCinema aims to enrich the lives of patients, many of whom are critically ill or disabled and spend extensive periods of time in hospital or undergoing treatment.
This volunteer role involves assisting at each screening by collecting patients from the ward and assisting them to the MediCinema, pushing wheelchairs and hospital beds as required, then returning patients to their ward once the film is over. To ensure patient safety throughout the film, two NHS nurses are hired for every screening.
Download the 'Role Description' here.
To find out more or apply, please contact us at volunteer-recruitment@nuth.nhs.uk or by clicking the button below.
CONTACT US
GNCH FUNDRAISING VOLUNTEER
Time Commitment : As and when required
The Great North Children's Hospital (GNCH) at the RVI in Newcastle is one of the largest children's hospitals in the UK. GNCH cares for poorly or injured children from Newcastle, Gateshead, North Tyneside and Northumberland and also provides highly specialised care for all children in the North East and North Cumbria with severe or long-term illnesses. As an internationally leading research centre, clinicians at GNCH work side by side with research staff to constantly improve treatments for all childhood diseases.
We are looking to recruit Fundraising Volunteers to support and promote the work of GNCH and GNCH Foundation across the Trust and externally. This will involve attending charity Fundraising events at both onsite and offsite, to help with bucket collections, raffles and promotions etc.
To find out more or apply, please click on the button below
CONTACT US

PATIENT EXPERIENCE VOLUNTEER
Days and times available: Mondays to Fridays, 9am to 5pm
Minimum requirement: 3 hours per week.
This opportunity would perfect for anyone who enjoys meeting/talking to patients, and would like to be part of a team that bring about improvement to the services we offer patients.
The role is to provide support to the Patient Experience Team (PET) with various campaigns which focus on bringing about improvement to our services, with the aim of leading to positive experience for our patients, their relatives or carers.
The main duties will be to approach patients and their families/carers attending wards or outpatient areas, and to listen to their experience of accessing our services. Their feedback will be recorded on handheld tablet (iPad or similar) and results fed back to the PET. Once a month, as a team of PE volunteers, you will meet with the PET to share your insights/observations on how improvements to the patient /visitors experience can be made.
Good listening and communication skills and the ability to tactfully communicate any feedback that requires immediate attention is essential, as is a knowledge of 'palm-top' technology.
Applicants must be 18 years or older.
To find out more or apply, please click on the button below.
CONTACT US
Trustee Opportunities
Have you ever thought about being a trustee for a local charity? It can be a great opportunity for you to put something back into a cause you believe in, help an organisation with your professional knowledge and expertise and also provide you with development opportunities.
There are several local infrastructure organisations that promote trustee opportunities: