Newcastle has around 60 Operating Theatres at the Freeman Hospital, the Royal Victoria Infirmary and our stand alone Cataract Centre. We are also building a brand new Day Treatment Centre with four theatres.
Operating Department Practitioner
What is the role of an Operating Department Practitioner (ODP)?
The role of the ODP covers the three critical phases of a patient's operative journey:
Pre-operative (before surgery)
ODPs are sometimes involved during a patient's pre-assessment, to ensure they are fit enough for their surgery and anaesthesia before they are admitted to hospital.
Our ODPs are most certainly a key member of the Anaesthesia team with an in depth knowledge of the different anaesthetic techniques, monitoring equipment and drugs used to keep the patient safe during their operation. They are excellent communicators, not only because of their role supporting the entire theatre team but because they are the ones who reassure the patients – who can often be very nervous or anxious before their operation begins. This is so important and our ODPs feel privileged of their responsibility.
During the surgery
Our surgical ODPs 'scrub up' alongside their surgical colleagues and have a thorough understanding of all the procedures they support, and the diverse range of specialist equipment used. They are responsible for making sure the patient is in absolutely the right position for the surgery they are about to have, that the surgeons are provided with the correct instruments at the right time, and that all implements used during the operation can be accounted for at all times. Our ODPs make sure our patients are kept as safe as possible.
After surgery
Patients recovering from their surgery and anaesthesia are looked after by post-operative ODPs who monitor them closely, making sure they are pain free, can breathe freely and are reassured. They continually assess their patient, managing their airways and administering medication and fluids to make sure their recovery is safe and smooth.
ODPs have a good understanding of anatomy and physiology, disease, asepsis and infection control, and surgical safety, and their skills are wide ranging and multi-faceted and seen to be transferable. This means they are armed with skills that can be used in many other clinical areas such as resuscitation, for patients in cardiac arrest, or caring for patients who have been ventilated in intensive care. Our ODPs provided vital support across the country throughout the height of the COVID-19 pandemic.
Career progression
There is a wide spectrum of career opportunities for ODPs with ambition and experience – roles such as Advanced Practitioners, Transplant Coordinators, Endoscopists, Resuscitation Training Officers, Simulation Trainers, Team Leaders, Theatre Managers, Matrons, Research, Lecturing – the list goes on.
Find out more
Not many people who wish to pursue a clinical career know about the role of the ODPs working behind the theatre door, but it may be just the role to suit you - find out more here : https://odpcareers.codp.uk/p/1
Watch this video produced by ODP Kevin Duff : What's an ODP https://youtu.be/lxYZ7bkodhU
About our Theatres
If you are an Operating Department Practitioner (ODP) or due to qualify and you want to work for one of the most innovative and diverse peri-operative environments in the country then look no further!
We comprise of 55 Operating Theatres spread across two sites at the Freeman Hospital and the Royal Victoria Infirmary. We employ over 600 staff and perform approximately 70,000 operations per year.
We have a dedicated, friendly and professional team focussed upon providing patient centred care. Our theatres operate a 24/7 service providing weekend working, internal rotation on to night duty as well as an out of hours trauma and emergency service provision covering all surgical specialities.
Our theatres provide specialised Cardio-thoracic Surgery and transplant, Orthopaedic Trauma, Plastic / Burns Surgery, Reconstructive Surgery, Hepato-Biliary Liver and Renal Transplant & retrieval Surgery, Neuro Surgery, Ophthalmology Surgery, General and Vascular Surgery, Spinal Upper and Lower Limb Surgery, Upper Gastro-Intestinal Surgery, Gynaecology Surgery, Urology Surgery, Ear Nose and Throat Surgery, Oral and Maxillo Facial Surgery, Paediatric Specialised Theatres and a Da Vinci Robotic Surgery Service.
Search Jobs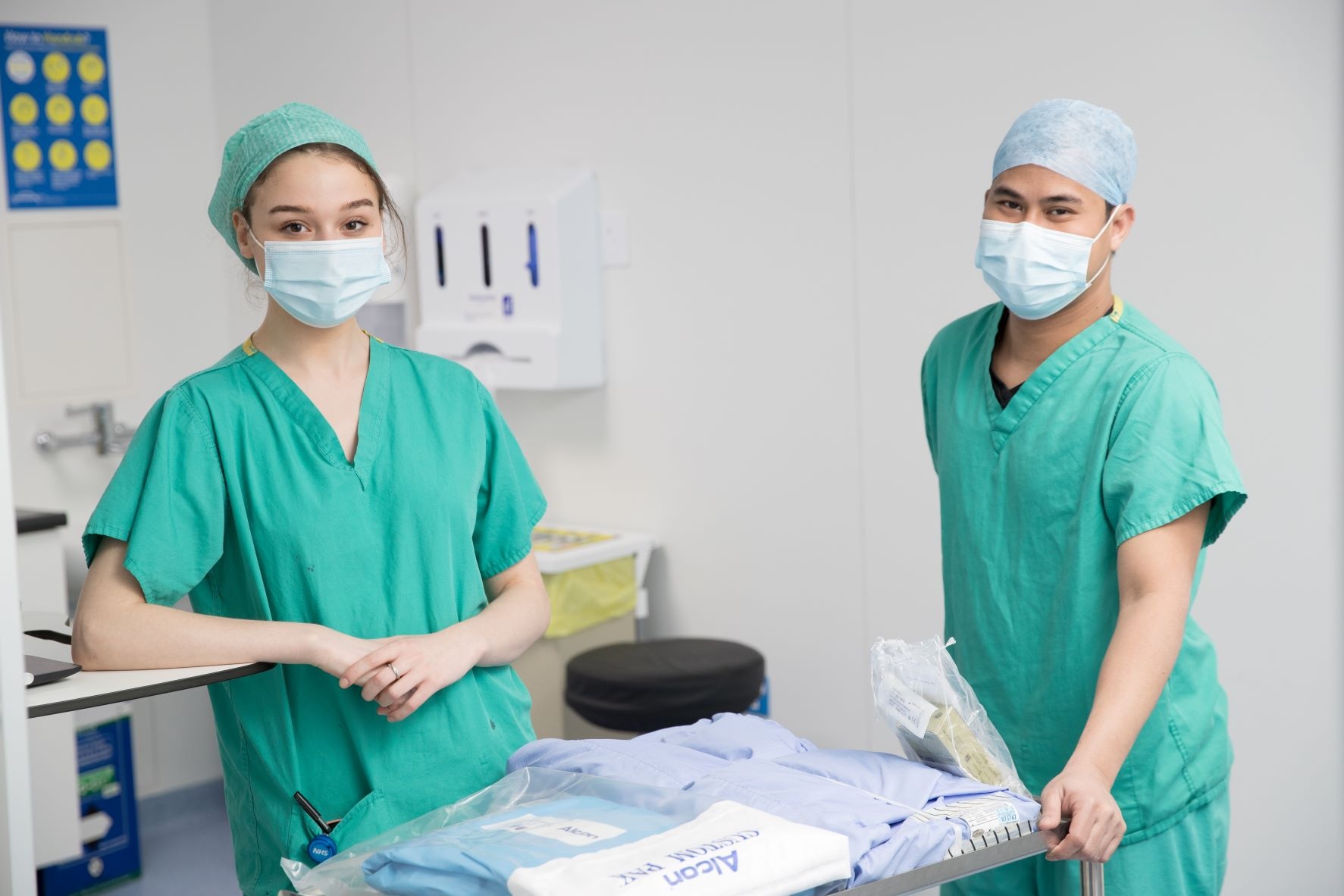 Frequently asked questions
What opportunities are available for ODPs?
Tremendous opportunities exist for well-motivated and enthusiastic ODPs to develop their skills and experience in a range of specialties. We have a well-established development strategy to ensure that this valued and supported workforce are equipped to meet the future challenges of healthcare provision. Each area has a dedicated Clinical Educator to support staff in clinical practice.
As a Teaching Hospital we are committed to life-long learning and have a broad portfolio of internal study days and courses. We also have close links to Newcastle, Northumbria, Sunderland and Teesside Universities who provide modules for our continual academic and professional development.
We have a wide range of long term career options for ODPs and want to ensure no member of staff leaves our Trust for anything other than a positive reason. We have clearly defined yet flexible career pathways no matter what stage of your career you are it. Pathways exist for:
Senior Management Roles
Advanced Practice Roles
Clinical Educator Roles in Peri-Operative Services
We advertise ODP vacancies and interview on a monthly basis with the exception of December. If you are a new registrant due to qualify we recommend you apply for the interviews 4 months before you are due to qualify. If you apply before this you are unlikely to be shortlisted.
The post will be advertised on NHS jobs and can be found here. The interview dates are included with each advert. Please make sure you check this date as we cannot offer an alternative date. We do however offer interview slots from 8:30am to 3pm. All of our OPD posts are included in a single advert, the advantage of this is you only have to attend for one interview but this gives you access to all the ODP posts that are available on the day
When you attend for the interview you will be given a list of all areas that are recruiting that day including scrub, anaesthetics and recovery. You will be asked to select up to three areas of interest - if successful at interview we will always try and offer you your first choice of post however if that's not possible we would then look at your second and then third choice. If successful we will always offer you a specific post, you won't go into a "pool" to await a suitable post.
You can specify if you have a preference for working at the RVI or Freeman as our services are delivered on both sites. You will be asked if you would like full or part time work and if part time how many hours you would be interested in.
We welcome any queries regarding specific posts you can contact us at NursingRecruitmentQueries@nhs.net
You can search for all other posts here. Each vacancy has a contact name if you have queries about that specific post.
What if I have never been to the Trust before – can I come for a visit?
We encourage staff to come for a visit if you have never been to the Trust before. This gives you a chance to see what services we offer and what posts might be available and it gives us a chance to give you a warm welcome and say hello.